Wireless optical communication using Silicon-on-Insulator technology
Main Researcher: Karel Van Acoleyen
As data streams are ever increasing, the need for high-speed, high-bandwidth components is becoming more and more important. At RF side, an evolution is seen to high speed wireless communication at 60GHz for indoor communication, which are being researched at the moment. An unlicensed bandwidth of 5 up to 7 GHz is available allowing gigabit per second wireless communication using directive links.

In this research topic, wireless optical communication is researched using the Silicon-on-Insulator platform. This allows low-cost, mass-producible and light-weight components. Very directive links with huge bandwidths are possible in this way. An example of such a beam steering component can be found below. The component consists out of an 1D array of grating couplers with phase modulators. By applying the right phase at each grating coupler, the optical beam can be steered. This could be useful in optical sensor networks.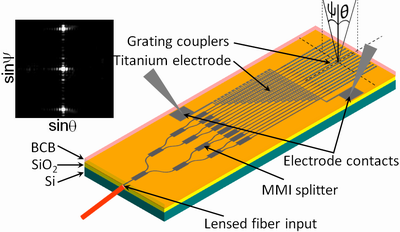 An 1D optical array for optical beam steering
Other people involved:
Publications
International Journals


Book / Book Chapter


W. Bogaerts, D. Vermeulen, Off-chip coupling, Handbook of Silicon Photonics (invited), p.97-138 doi:10.1201/b14668-4 (2013) .
International Conferences


National Conferences


K. Van Acoleyen, R. Baets, Optical beam steering for wireless optical applications, 12th FEA PhD Symposium, Belgium, p.99 (2011).
K. Van Acoleyen, H. Rogier, R. Baets, Wireless Optical Communication using Silicon-on-Insulator technology, 10th UGent-FirW PhD Symposium, Belgium, (2009) .
---
Back to overview