Simple to fabricate and highly efficient spot-size converters
Research Area: III-V Semiconductor Photonic ICs
Main Researcher: Wouter D'Oosterlinck
There are two rationales for the use of integrated spot-size converters (SSC): 1) fiber coupling and pigtailing of photonic integrated circuits (PIC), and 2) hybrid integration of lasers, semiconductor optical amplifiers and other PIC's with low-loss silica on silicon planar circuits. We investigate SSC's that are based on a tapered active region and an underlying passive guide. Simple to fabricate and highly efficient SSC's have been developed.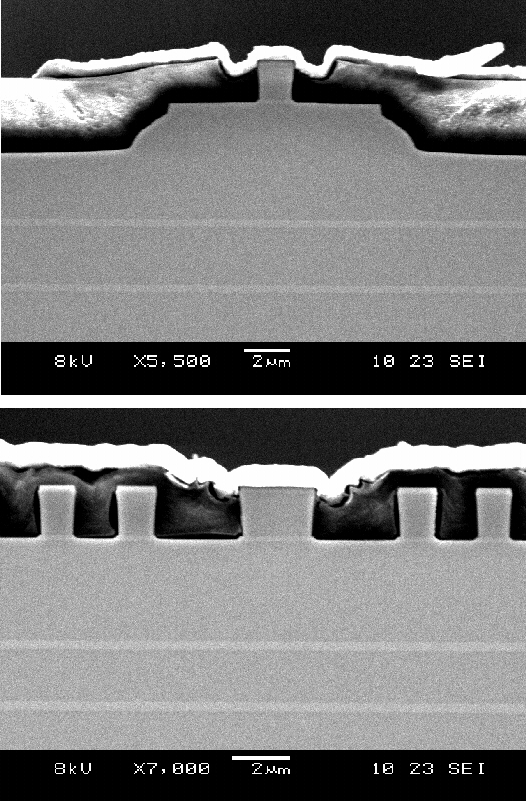 SEM photograph of two SSC
Other people involved:
PhD thesises
Publications
International Journals


B. Moeyersoon, G. Morthier, R. Bockstaele, R. Baets, Improvement of the Wavelength Switching Behaviour of Semiconductor Tunable Lasers through Optical Feedback from a Periodic Reference Filter based on a Novel Prism-Based Implementation of a Fox-Smith Resonator, Photonics Technology Letters, 17(10), p.2032-2034 doi:10.1109/lpt.2005.856384 (2005) .
M. Galarza, K. De Mesel, S. Verstuyft, D. Fuentes, C. Aramburu, M. Lopez-Arno, I. Moerman, P. Van Daele, R. Baets, Mode-expanded 1.55-um InP-InGaAsP Fabry-Perot lasers using ARROW waveguides for efficient fiber coupling, IEEE Journal on Selected Topics in Quantum Electronics, 8(6), p.1389-1398 doi:10.1109/jstqe.2002.806679 (2002) .
---
Back to overview