Advanced packaging techniques for parallel optical interconnects modules
Research Area: Photonics packaging
Main Researcher: Olivier Rits
The development of packaging technologies for parallel optical interconnects modules requires multi-disciplinary thinking. Each design is determined by thermal, optical, electrical and mechanical constraints. The optical coupling is perhaps the biggest challenge compared to traditional packaging of electronic chips. Parallel optical interconnect modules should couple to an optical connector, requiring precision alignment features and a transparant interface.

This research concentrates on the integration of alignment features in the package. In our work, a novel way of assembling the chip with optical access is developed. This optical access is a spacer plate with alignment features and guiding pins for the connector. This plate is mounted on a ceramic package.


Assembling the opto-electronic hybrid, the package and the alignment plate (spacer plate) into one opto-electronic module
The technique we developed allows for an accurate 3-D alignment of two independent objects, for example a connector guiding part and a package. The technique can be extended to mount other objects as microlens arrays on packages.

The next photograph shows an example of a modules on which a spacer plate is mounted. The spacer plate contains the alignment pins for the connector, and a hole for the optical access. The plate is realised using laser ablation.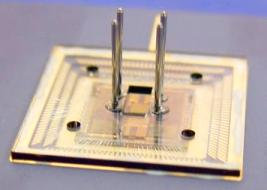 Spacer plate mounted on a ceramic package.
Other people involved:
Related Research Projects
---
Back to overview