Non-linear applications of edge-emitting laser diodes
Research Area: Integrated lasers and LEDs
Main Researcher: Koen Huybrechts
Due to the growing need for bandwidth in telecommunication networks all-optical networks have gained a lot of attention due to high flexibility and large throughput of such networks. Key components for these all-optical networks are amongst others all-optical regenerators, wavelength converters and all-optical flip-flops.

This research topic focuses on the implementation of these type of devices using semiconductor optical amplifiers (SOA) and/or distributed feedback laser diodes (DFB).

Recently, work has focused on AR-coated DFB laser diodes which can be bistable under injection of an external CW beam. Fast flip-flop operation (<100 ps) was achieved with sub-pJ pulse energies.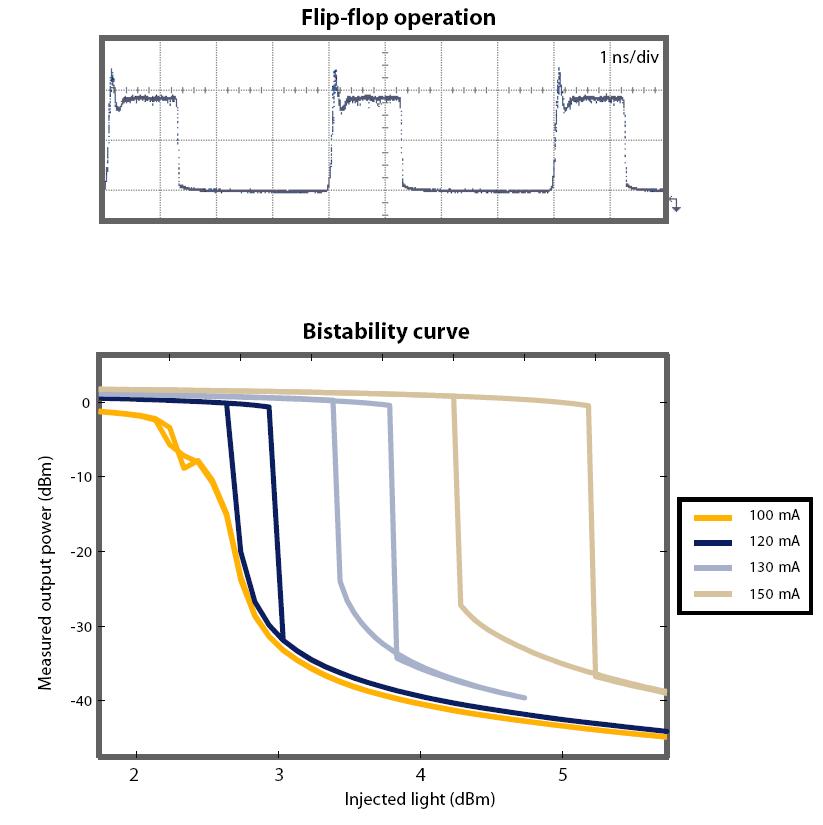 Other people involved:
PhD thesises
Publications
International Journals


International Conferences


National Conferences


W. D'Oosterlinck, All-optical flip-flop employing a DFB-SOA optical , 7e UGent-FirW Doctoraatssymposium, interactive poster session, Belgium, p.paper nr. 17 (2006) .
---
Back to overview