Miniaturized laser Doppler vibrometer on silicon-on-insulator (SOI)
Research Area: Silicon photonics for biomedical applications
Main Researcher: Yanlu Li
A laser Doppler vibrometer (LDV) is a device used for measuring the vibrating speed of a target surface with coherent light. The working principle of this component is based on the Doppler theory. According to the Doppler theory, the frequency of a light beam reflected by a moving surface is different from its original value, and the amount of frequency shift is called the Doppler frequency. The Doppler shift is proportional to the instantaneous speed of the vibration. In principle, we can obtain the vibrating velocity of the surface by measuring the Doppler shift of the reflected light. The benefit of an LDV is that it can measure a vibration without contacting the target. They are widely used in applications which require non-contact velocity measurements. Nowadays, LDVs are also being used for measuring pulse wave velocities (PWVs) of arteries, which is an important parameter for many kinds of diseases.

The optical part of a simple LDV normally comprises a laser source, an interferometer, and one or several detectors. The reflected, useful optical signal is mixed with the reference signal in the interferometer, and a changing beat is formed in the mixture due to the Doppler shift in the reflected signal. The information of the instantaneous beat is detected by the photo detector(s), and sent to a demodulator to recover the measured velocities. An optical frequency shifter is often included in the reference arm so as to realize the so called heterodyne detection. Thanks to the frequency shifted reference signal, the detected beat is shifted to a relatively high frequency, so as to avoid the influence of low frequency noises.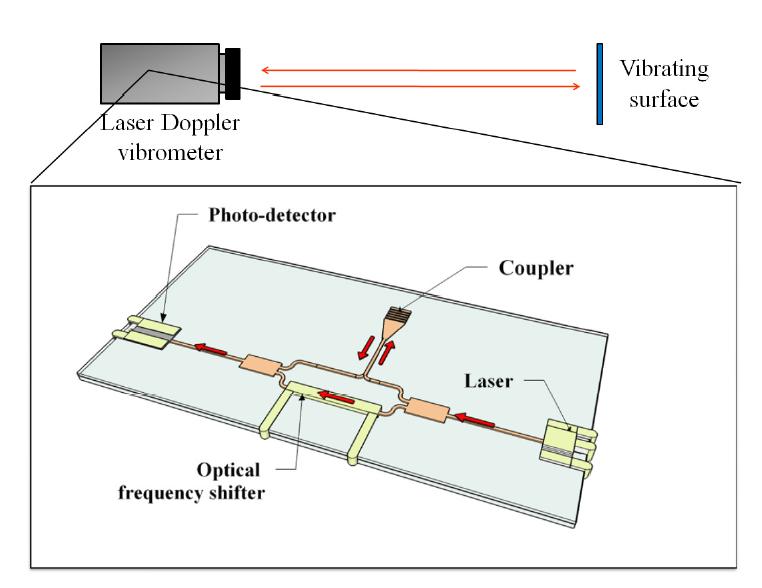 Miniaturized LDV on SOI.
We are interested in miniaturizing LDVs on the platform of silicon-on-insulator (SOI), which shows many advantages in reducing device size, power consumption and fabrication cost. Interferometers and detectors on SOI have been successfully reported. In this project, one most important work is to realize an optical frequency shifter on SOI, which has not been reported yet. We have proposed a serrodyne optical frequency shifter, which is a phase shifter with a sawtooth phase change. It has been successfully reported for a low frequency shift (1 kHz). A higher frequency shift using the carrier-injection/depletion based phase modulators will be studied.


Other people involved:
Related Research Projects
PhD thesises
Patents
Publications
International Journals


International Conferences


---
Back to overview