Silicon (nano)photonic devices fabrication with 193nm and 248nm (DUV) Optical lithography
Research Area: Silicon Photonics Process Technology
Main Researcher: Shankar Kumar Selvaraja
One major limitation for the widespread use of photonic crystals is the lack of efficient fabrication technologies. Most photonic crystals today are defined using e-beam lithography, a technique which can handle the resolutions required for photonic crystals at telecom wavelengths, but lacks the possibility for industrial application due to long writing times. Other techniques used for the large-scale fabrication of current PICs cannot print the fine details of photonic crystals.



(a) Photonic crystals of 300nm pitch and 180nm hole dia and (b) W1 photonic crystal waveguide fabricated by 193nm lithography technology.
Deep UV lithography has the promise to solve this issue. This optical lithography technique based on excimer lasers with wavelength of 248nm and shorter is used state-of-the-art CMOS-facilities. The short wavelengths (193nm) can resolve periodic structures with periods down to a few 100nm.

Our material of choice is Silicon-on-Insulator. SOI is a good material system for the fabrication of Photonic Crystals because it is transparent for the main telecom wavelenghts, it has a high refractive index contrast, and it can be processed in silicon-based facilities.
As photonic crystal structures differ significantly from typical CMOS-circuits, lithography knowledge cannot be ported in a straightforward manner to photonic crystals. Key differences between these two types of structures are the lattice type (preferably triangular for photonic crystals versus square in CMOS-circuits) and the fill factor of the unit cell. We have therefore, studied the possibilities of manufacturing photonic crystal-like structures with this technology. For this purpose, we used the 248nm and 193nm deep UV lithography facilities available at IMEC. These consist of an ASML PAS 5500/750 and PAS 5500/1100 DUV stepper attached to an automated resist processing track.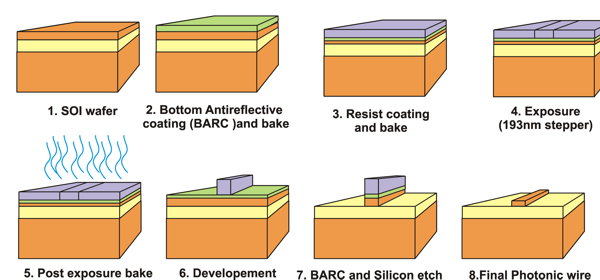 Fabrication process with 19nm deep UV lithography
For Photonic wires of 450nm wide fabricated using 193nm optical lithography and etch, we achieved a propagation loss of 2.8 dB/cm, which is the lowest wire loss reported using optical lithography. This loss is further reduced to 1.8 dB/cm by applying a surface treatment to the wires. For photonic crystal waveguides (with 248nm process), the losses are still an order of magnitude higher, with 7.5dB/mm for a W1 waveguide.

We have also implemented a large number of WDM-devices, such as Arrayed Waveguide gratings, planar curved gratings, coupled cavity waveguides, lattice filters and resonators.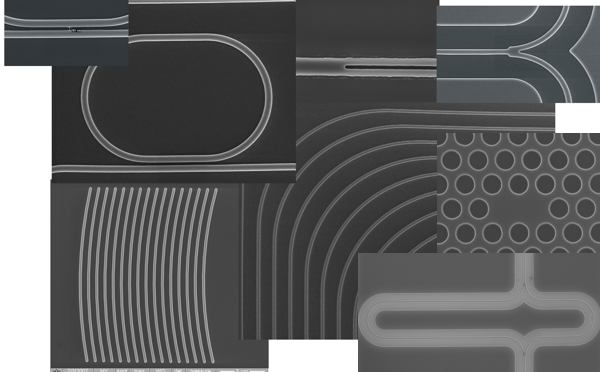 Photonic structures fabricated by 193nm lithography technology
Other people involved:
Related Research Projects
Downloads

Fabrication of SOI Photonic Crystals with deep UV lithography

Nanophotonic ICs: the promise and the problems (Norway 2004)

(Nano)photonics in Silicon(-on-Insulator)

Silicon-on-Insulator based Nanophotonics Why, How, What for?
PhD thesises
Patents
Publications
International Journals


Book / Book Chapter


W. Bogaerts, L. Liu, G. Roelkens, Technologies and Building Blocks for On-Chip Optical Interconnects, Integrated Optical Interconnect Architectures for Embedded Systems (invited), doi:10.1007/978-1-4419-6193-8_2 (2012).
International Conferences


National Conferences


---
Back to overview